In this intimate Q&A, Valentina shares a glimpse of discovering herself as a designer and launching her namesake label. She discusses the values that are embedded in her brand's DNA, the things that keep her inspired, and the philosophy that makes VK a promising force in the industry.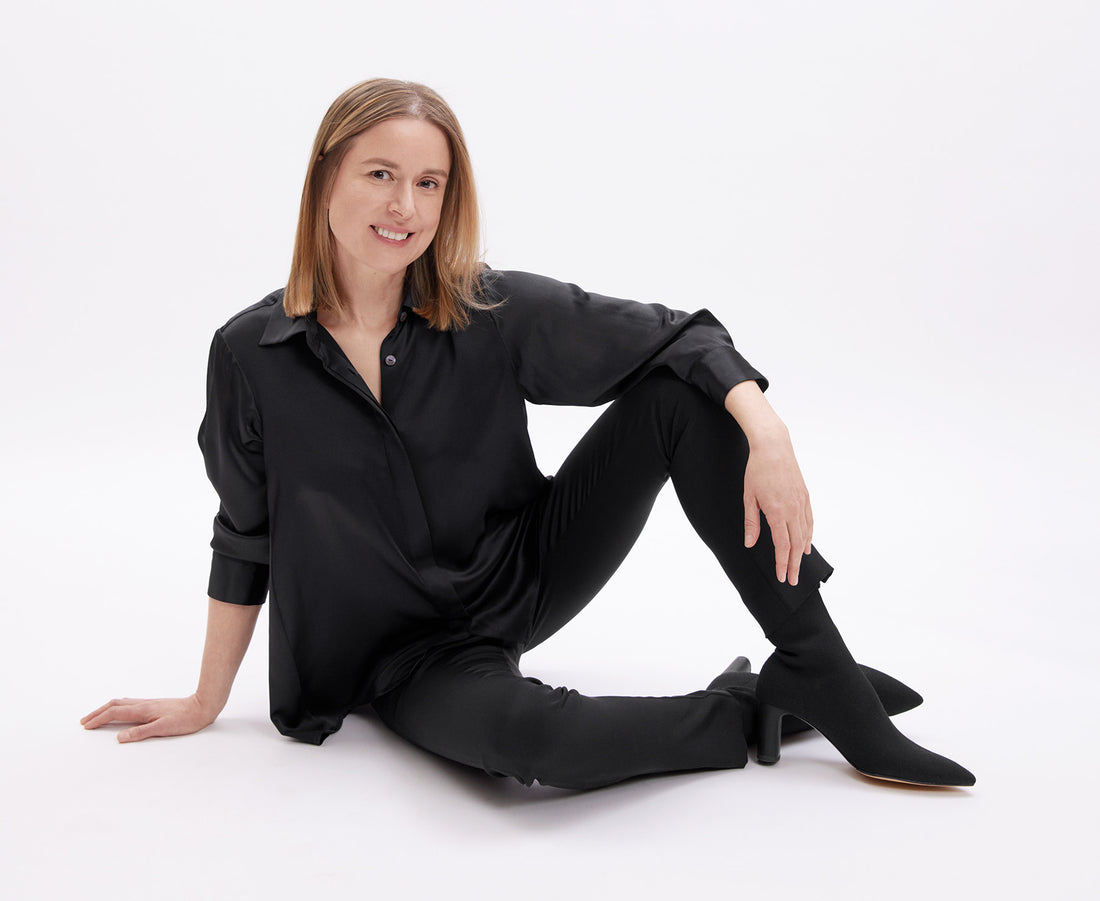 How has your multicultural life – Russian heritage, American upbringing, significant time in New York City - influenced you?
I grew up in Russia in a large extended family of scientists, engineers, professional musicians, architects, and painters. It was a strange mix of left and right brains co- existing together. When I was about 7 years old, I was studying fine arts and practicing chess simultaneously on a rigorous daily basis. My dream was to become a professional painter and a chess ambassador at the same time, all while traveling around the world. However, around the time of my high school graduation, the political situation changed in Russia and educational opportunities were limited. When an arts scholarship to go to college in the United States presented itself, I was so eager to jump on it! I attended Lake Forest College and went on to double major in Fine Arts and Economics. Shortly thereafter, I got my first job at Goldman Sachs as a Financial Analyst. After spending 3 years working on Wall Street in Chicago, it became clear to me that I needed to follow my heart and pursue the arts professionally. Fashion was always a visual interest of mine and developing a business model of a company was attractive to my analytical side.
What lessons did you take from the financial world into your fashion career?
Working in a very competitive, demanding and rigorous corporate environment right after college gave me the foundational discipline, goal setting, realistic expectations, teamwork and leadership. It was also a very physically strenuous work schedule. I often had to be on the trading floor by 5:30am and would leave around 9:00/9:30pm. In retrospect, I feel so lucky that I learned those invaluable lessons right at the start of my professional life. I carry them into my business practices today.
You started out designing fine jewelry in 2011 and then expanded into clothing in 2013. Can you share more about it?
I got into jewelry quite by chance. After my graduation from Parsons School of Design in NYC, I went on to work for an accessory designer Natalia Brilli in Paris. While working with her, I started experimenting with my own accessories and small jewelry pieces. I stayed in Paris for a year and then returned to New York. Shortly afterwards, I met an old Russian jeweler named Leo. I asked Leo to make a necklace out of a shark's tooth that I found on a beach in Long Island. Instead of just executing what I asked him, Leo went on to teach me about the concepts of jewelry craftsmanship and why some ideas needed to be executed in a specific way. Our relationship slowly morphed into a beautiful mentorship and friendship. Leo opened all the doors for me in the jewelry world by introducing me to other master jewelers, stone and diamond dealers, and ultimately helping me bring my designs to life. All while my mentorship with Leo was blossoming, I was also teaching four classes in fashion and design principles at Parsons. I wasn't thinking about launching my own brand then. Only after many people started noticing the jewelry I was wearing and then commissioning me to make custom pieces, I thought of monetizing my creations. I launched Valentina Kova in 2011 selling only fine jewelry and in 2013 I expanded into clothing.
Where do you look for creative inspiration?
I'm constantly inspired by nature. Being one with the natural world allows me to reconnect to my core, to reflect, and to recharge. Its solitude is highly meditative for me, almost spiritual. Noticing all the little things, from the petal of a flower to the tip of a wave, the natural details energize me like nothing else. Taking moments to appreciate earth's beauty fuels me, it truly feeds my soul.
How do you stay inspired?
I stay inspired by constantly exposing myself to outdoor sports. I've kite surfed and scuba-dived the coasts of Costa Rica and the Dominican Republic; being alone in the middle of the ocean is a very solitary and liberating experience for me. I also enjoy skiing and snowboarding, especially in places like the Rocky Mountains where our first ever boutique was opened in Aspen in 2016. Reconnecting with nature allows me to slow down, stay present, and see the beauty that exists everywhere.
How do you want women to feel when wearing Valentina Kova?
Most importantly, I want them to feel whole. I want them to feel like they are enough the way they presently are. Often, I find women feel pressured to be better than they currently are. Whether we're looking to lose a few pounds, make more money, be a better mom, own a bigger home, or whatever the case may be, we somehow fall victim to comparison, self-judgement and self-criticism. I want women wearing my clothes to feel their very best now. I hope my creations give women "that" feeling. "That" spark of happiness within themselves. I hope to design for all women, for those at their highest highs and lowest lows, in the hopes that they can feel whole again.
Your made-to-order business model is so unique. It prioritizes customer choice while leaving very little room for waste. Why did you choose to operate at this capacity?
I want women to have choices. I believe that all women, shapes, and sizes should not only be acknowledged, but celebrated. Offering these elements of personalization allows us to tailor the piece specifically to you, which I think is special. I also believe in color; I think life is colorful. We use color to express how we feel, so offering multiple colorways just makes sense. Made-to-order is also the most environmentally friendly way to manufacture, in my opinion. We create what we actually sell, and in doing so, we minimize waste and avoid overstock. It's a win-win for everybody.
How would you define your personal style?
It's reflective, comfortable, and contemporary, but it's constantly evolving. It really depends on how I feel. I look to fashion as a way of communication. It expresses my mood to the world. So, I like to experiment with proportions, colors, and fabrics, while balancing the classic with the modern. Comfort is my main priority, though. I'm constantly parenting, working, and traveling, so I crave functionality and ease in my wardrobe.
What are some of your biggest dreams that you are yet to fulfill?
I think my dream is to find balance and peace. I want to be present in the moment as much as possible. I find peace when I'm one with nature, but I crave this sense of stillness daily. I want to appreciate and soak in all the little moments that life has to offer. I want to find beauty in every little corner of my world, wherever it may be. I used to be very future-driven. Now, I just really want to focus on the here and now.
Where do you see the brand fitting into the industry in the next 5 years?
Right now, we're operating at extreme atelier-level luxury. Everything is handcrafted in the Garment District of NYC, it's very controllable and customizable. We rarely work with wholesalers, we're almost entirely direct-to-consumer. Moving forward, we want to focus on a) expanding our digital footprint and b) building on the community that already circles the brand. It's about maintaining our current customer base and attracting younger entrants. I want to serve more women who crave the same things as our existing clients: fine quality, true sustainability, and female empowerment.